Lactate measurement on-site in Nauders
-
If your legs really start to burn when cycling for a long time, your body will produce more lactate than it can break down and your muscles will become over acidified. Then your performance will soon be over. To know your individual limits of acidity, it is imperative that you are aware of your lactate threshold.
With us you now have the unique opportunity to determine your lactate threshold during a controlled test on the final climb of the Engadin route (the climb to Norbertshöhe has to be done 3 times). The demand is designed so that you can still participate shortly before you take part in the Tri-country tour and it is even beneficial (super compensation training). In this way, your individual training and racing areas will be determined. The measurement is carried out by our official training partner and state certified SPORTS COACH Daniel Rubisoier, BSc, MSc.
The entire measurement takes about 2 hours. For the Lactate measurement, the evaluation and a subsequent debriefing, a fee of €29 is charged.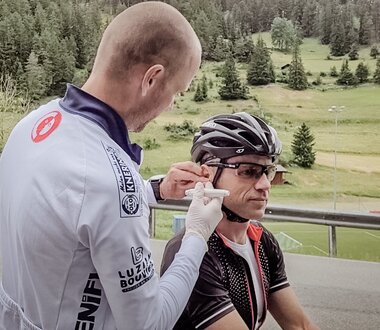 Event location
BikeClub Nauders